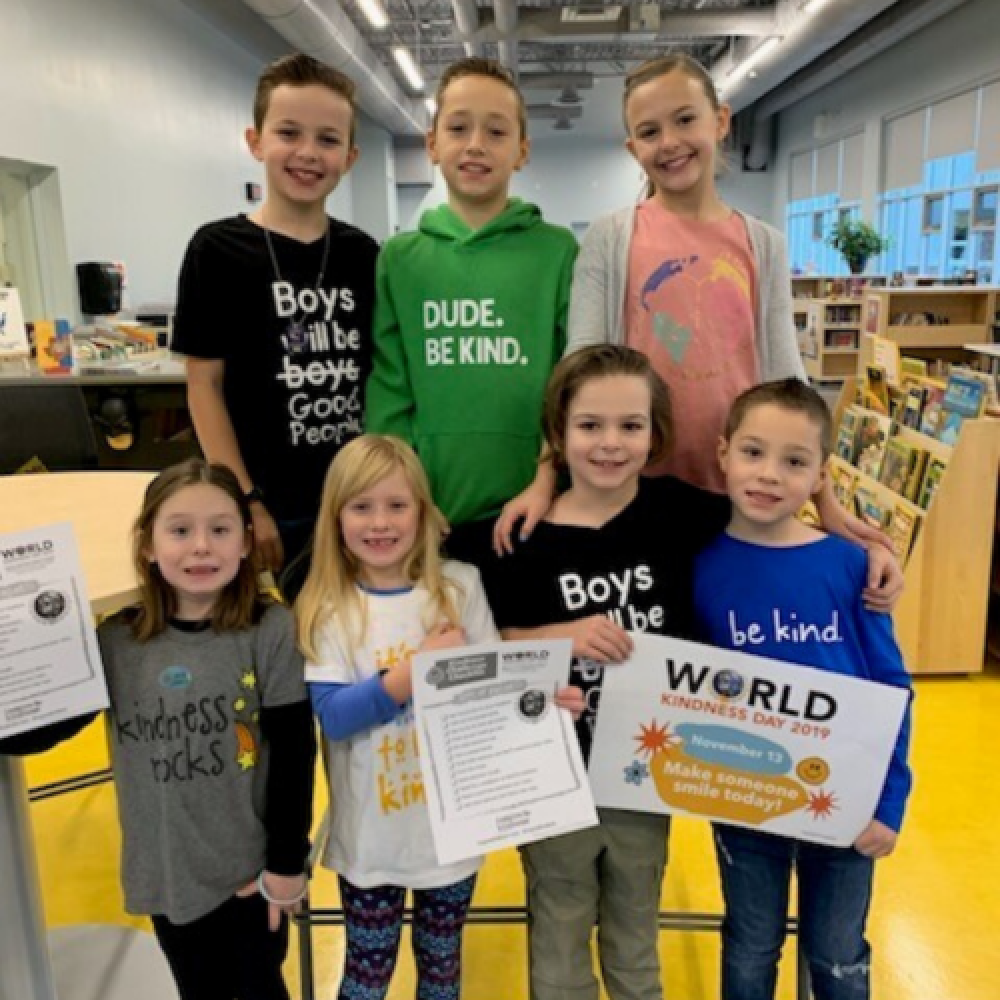 As many of you know, November 13th was World Kindness Day! This holiday was created in 1998 by the World Kindness Movement, and its purpose is to promote kindness in our communities and across the world. If we all work together and learn to be kind to one another, we can make the world a better place.
Our team reached out to see how people all across the country celebrated World Kindness Day 2019. Here are some of our favorite stories:
School Celebrations
Many schools make it a priority to teach social emotional learning in their classes, and they have curriculums that revolve around kindness. These schools shared with us what they did to celebrate this year!
1. These middle school students dressed in orange to support unity and anti bullying and celebrate World Kindness Day! All 1200 students received a bee eraser to remind them to bee kind and a positive message card!
Photo credit: Katie Vickey Carley, North Attleboro Middle School in Massachusetts
2. Students at Ron Southern printed out World Kindness Day Posters and completed a checklist of kindness activities.
Photo credit: Erin Hogan, Ron Southern School, Calgary, Canada
3. Math students created kindness equations with different things that represent kindness to them!
Left: Sarah McGee Cappabianca, Minerva Central School - Right: Kym Anne, Lubbock-Cooper South Elementary School in Texas
4. Students at Pauline Central crafted kindness messages to share with each other, created "letters" to postal workers, and one class talked about what kindness looks like around the world. Another group wrote and shared sweet notes of encouragement with school staff.
Photo credit: Linessa Frazier, Pauline Central Primary School, Topeka, Kansas
5. Emma Louw, student at Station Camp, wore a kindness shirt and wrote letters of appreciation to her teachers. She got the idea from our school kindness checklist!
Photo credit: Emma Louw, Station Camp Middle School in Tennessee
6. These students walked around school with a kindness cart full of snacks and beverages for all of the staff members! They thanked their teachers for being who they are and they handed out Happy World Kindness Day cards.
Photo credit: Jodie Miller Viviano
Be the "i" in Kind
A viral social movement that we've seen in the past year has been to "Be the 'i' in Kind". This is a great opportunity to teach kids that we can all be more intentional about being kind, and that it's up to each one of us to do our part to create a kinder world. Here are a few schools and organizations that became the "i" in kind this year!
Jennifer Martin Reid, Gateway Elementary school, Woodland Park, Colorado
The Rotterdam Boys & Girls Club, Schenectady, New York
Casey Wilson and her son Gatlin, Perry Elementary School, Perry, Oklahoma
Lori Henning and her Girl Scout Troop, Wichita, Kansas
Kym Anne, Lubbock-Cooper South Elementary School in Texas
Community Activities
Some communities and workplaces also get on board with World Kindness Day! They take time out of the day to spread kindness to their coworkers, neighbors, clients, and more. Take a look at some community events that stood out to us.
1. The Kids Helping Community organization wrote letters letters to local children in need in their community!
Photo credit: Kristen Hardin
2. The baristas at the Milwaukie Marketplace Starbucks in Oregon passed out handwritten cards of encouragement, $5 Starbucks cards and paid it forward for many customers today while wearing our matching t-shirts.
Photo credit: Jenny Holllingsworth
3. Misty Day set up a Kindness Rocks station at her office.
Photo credit: Misty Day Rocks (@mistydayrocks on Instagram)
Overall, there is no right or wrong way to celebrate World Kindness Day. Whether you were conscious about being nice to others all day or you did a big, notable act of kindness, your efforts made an impact. If we can all carry this intention with us throughout the rest of the week, the rest of the year, and the rest of our lives, think of the positive difference we could make in this world.
Share your kindness stories with us all year long.
No act of kindness, no matter how small, is ever wasted.
-Aesop