There's an estimated 5.75 trillion pieces of plastic debris in our oceans alone, according to National Geographic. That's staggering! With about 71% of the earth's surface covered in water, we must do a better job of taking care of our planet.
Fortunately, there are numerous ways we can be kinder to Mother Nature to conserve our beaches and aquatic ecosystems. And what better time to take action than summer?! For inspiration, check out the below ideas to help make our beaches cleaner, as well as real people being change-makers for the cause.
1. Pick Up Trash While Vacationing:
Vacations are meant for relaxing in the sun with warm sand between your toes, but that's no fun with trash littering the beach. Whether going somewhere tropical or waterfront a few hours away, take time out of your trip to walk the shoreline and pick up trash.
Jamaican Me Crazy with Litter:
Rachel and Travys were vacationing in Jamaica last summer when they were surprised by how much litter lined the shore. Taking a break from lounging, the couple decided to clean up a large section of the beach and found an array of trash that no water creature would want to encounter. Every little bit matters.
2. Reduce Your Use of Plastic:
Plastic is one of the top pollutants in our waters. From bottles to six-pack rings, plastic is used daily worldwide, but is not always recycled. Minimize your use of plastic by purchasing items that can be reused. It's kinder to your wallet and the planet in the long run.

Straw Alternatives:
Plastic straws are not biodegradable and can end up in our waters, often harming wildlife. An adventurer and change-maker, Suzanne of Oceanpreneur decided to create an alternative option: bamboo straws that are better for the environment.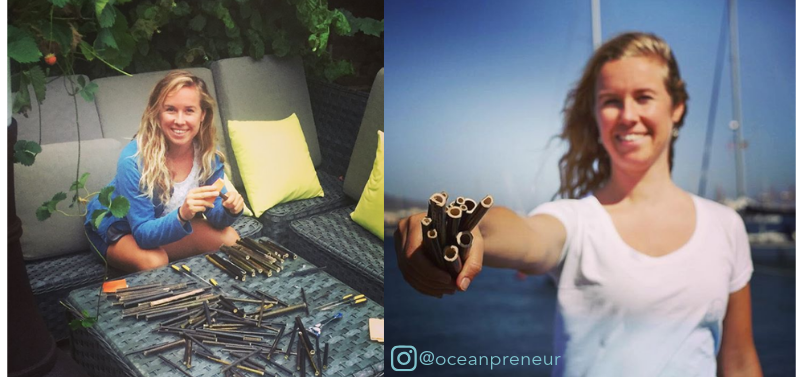 3. Plan a Company Outing:
Are you coordinating a company outing to have fun and build a positive culture? We have just the activity for you! This summer, organize a cleanup at a local beach for the whole company to partake in during the workday. It's a bonding experience that'll make a difference.

Out of Office:
To encourage employees to get involved in the community, Amdocs coordinated a team outing where they picked up trash from the local beach in Cyprus. In total, they filled 20 bags of trash and plastics from the beach. Talk about a dream team!


4. Become a Cause Advocate:
Whether it's your time, money, talents or simply a conversation, there are many ways you can spread awareness about water pollution and inspire others to keep our waters and beaches clean. There is power in numbers, but it starts with one. It starts with you!

#Ocean2Ocean
Sam is a 22-year-old athlete and environmental activist. To raise awareness of the ocean pollution crisis, he's embarking on a run across America beginning July 26. The journey will cover 3,000 miles, span 13 states and offer infinite opportunities to make an impact.